Step 1: Design Your Fence                                            Step 2: Contact Us
 
Steadfast Fence is proud to offer the highest quality, most customizable vinyl on the market.  Brought to you by our expert in-house team, it does not get better than this in terms of fencing.  The benefits of vinyl fencing are evident:
Vinyl fencing is very long lasting, 10+ years
Low maintenance, clean with a hose and it is as good as new
Durable, 5x more durable than wood fences (as tested by HomeAdvisor)
Flexible, 4x more flexible than wood fences
Vinyl fences are the highest quality type of fence, but here at Steadfast Fence we use only the top brand fences like Illusion Vinyl.  With all the benefits above, these fences go beyond and also include amazing style and customization.  If you have an architect's passion and know exactly how your dream fence should look, you can use the Fence Designer platform below.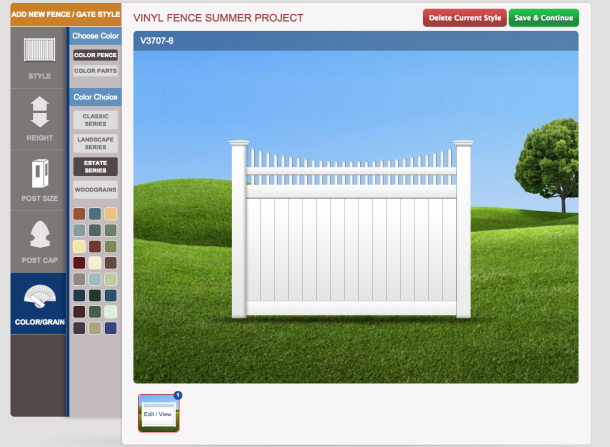 In the Fence Designer platform there are 35 colors to pick from, dozens of styles, dimensional customizations like post size and fence height, and more.  If you are you interested in making your own custom design, Steadfast Fence encourages you to go through the steps and download the resulting PDF or print out the results to show us.
Browsing the most popular styles is also recommended.  Even to just get some inspiration for your custom vinyl fence project.  The brochures below really show off the high quality of the products Steadfast Fence offers.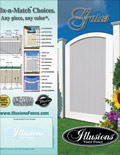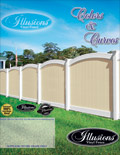 A high quality custom vinyl fence is a lifetime investment.  Economically it is more expensive up-front than some of the alternatives, like wood fences or cheap big box store vinyls and plastics, however, these fences have the lasting power to be price competitive in the long term due to their quality and durability.  They remain looking sharp without the intensive maintenance of other fences, which is a real longterm cost of the alternatives.  The last thing a home owner wants to be doing is restaining their fence or replacing broken panels on a nice summer day.
We are confident you are going to like your custom vinyl fence because so many of our customers already have.  The vast majority of our sales come from past customer recommendations, and the high quality of both service and product is the reason.  Contact us, and lets start working on your dream fence.